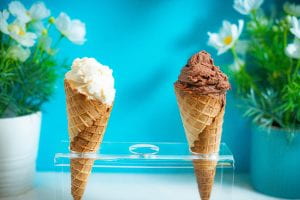 The rain was pouring down, I looked down in disbelief. It had been half an hour of waiting but Amy didn't come. The Ice cream was  dripping on the cone but no Amy. I decided to eat the ice cream by myself, maybe Amy was angry at me? Meanwhile  I finished the ice cream and went home. I decided it was a good idea to call Amy so I changed into my PJ's and called Amy. The suspense was killing me. She didn't answer the phone. I knew it was hopeless so I did what any immature person would do and gave up. I bet Amy thought that I was just an immature girl who doesn't know anything. 
A few hours later Someone was calling so I dragged myself to the phone and answered it. My hands were trembling as I answered the phone this is how the conversation went
Amy: Hi Mia it's me Amy
Me: Oh! Hi Amy. I already know you're angry at me you don't have to tell me because I already figured it out.
Amy:  Why would I be angry at you Mia! I just called to ask if you're ok. You never showed up to the ice cream shop. 
Me: I did but you didn't show up?
Both: We both went to a different ice cream shop!